Recent Projects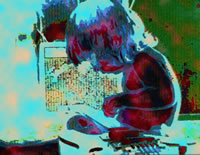 Eclectic Orchestra I Wonder CD
I Wonder World Wide Release
Heath Garrard
Heavy metal maestro & guitarist extraordinaire
Comedian
Poet & philosopher
Science fiction writer
Paranormal Investigator on the "WPRS" Wyoming Paranormal Research Society team
Writer guitarist singer / songwriter
and half of the heavy metal duo powerhouse "Within"
"Stardust Origins" -- from the raw rough master tapes
currently being re-mastered at Sounds Great Finishing Lab
Heath's Lyrics & Photos
Peace of Hope
A televised performance of an original song "Confusion"
by the constantly performing band Peace of Hope
and the song "The Stake" from the Televised Rock Show Covers Tribute CD.
New Rap & Hip Hop Artist YYY
Sounds Great Studio Project
Recline part 1 - Recline part 2 - Recline part 3
Spanishy 1 - Spanishy 2
Rap from the land of the midnight sun, the great white north, Anchorage angst.
Fen Hollen - Alternative Folk
From the CD Sprouts
A Sounds Great Studio Project
Journey & Reflection - Far Away (intro) - Givin' In (intro )- Voyage Inside
An exceptional new band with heartfelt
lyrics pulling from Alternative Folk roots and rocking through
soaring melodies with unique transitions and changes.
The Best of Parker Dance
Show Video Archives DVD Dance Highlights
Kenneth Thompson - Crossroads DVD
Live Bootleg Restoration Roger Waters
Live KAOS Tour
Live Eclectic Colfax Avenue Video Clip
From the Live DVD Video
Love Just Walked In Through the Door
Early Vocal Demo
Yon / Snipes
Spirits - Eclecticity (updated sound clip)
A Sleepy Refrain
Snipes / Mummert
Gary is currently finishing 2 new songs,
"We Just Wanna Dance" and "Just Fall In Love"
Catfish Live Video
New Sound Clip